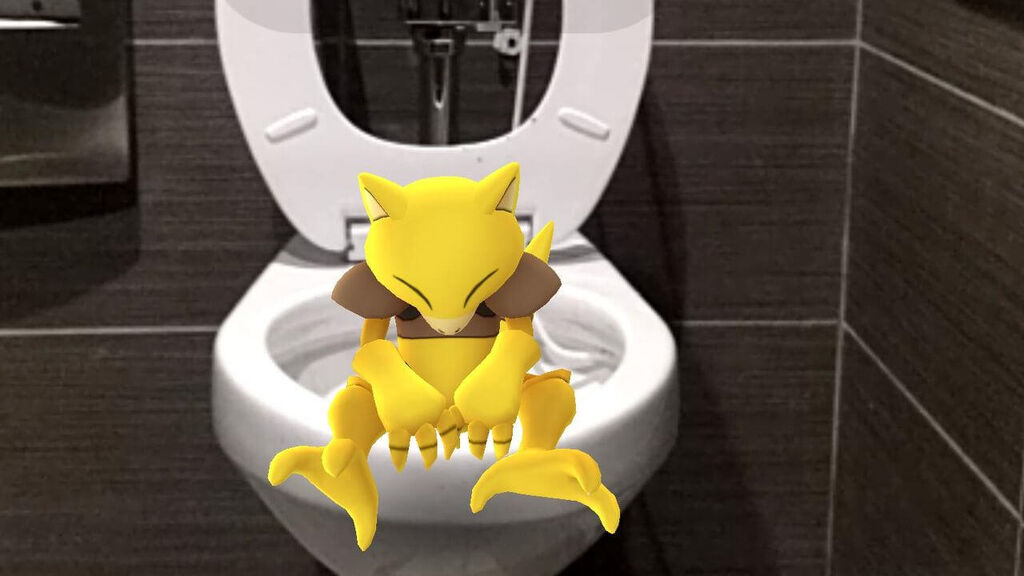 Originally published 8/15/2016
THE POKÉMON EXPERIMENT:
Pokémon Go has taken the world by storm, and after much hesitation, I decided to give it a shot. The game is lots of fun, but I am a bit of a thrill-seeker. I need a little danger mixed with my fun. So I decided to play Pokémon Go in my sketchy neighborhood.
LOCATION, LOCATION, LOCATION!
I live in Ottawa, Ontario, the capital city of Canada. To be honest, it's not exactly Detroit here. It's a pretty safe city to live in and gentrification is slowly rooting out a lot of the unsavory elements — and poor people! However, no matter what sort of metropolis you live in, there are always some rough edges.Case in point: my neighborhood.I live in the Vanier ward. Vanier… is a shithole… There's only one reason why I live in the area: cheap rent. Some say Pokémon are the most dangerous game, but those people are idiots. So I decided to up the ante and play in a dangerous part of town.For today's experiment, I walked four blocks of Montreal Road, the most "infamous" street in Vanier.This section of street has a reputation for being a pick up place for prostitutes, a place to score drugs, and a regular hot spot for shootings and stabbings in the city. This will be fun!
RULES OF ENGAGEMENT
The mission is very simple: I'm to walk the four blocks and see what happens.Each block I'm going to talk about which Pokémon I caught and where. I'm going to talk about the PokeStops and PokeGyms that may or may not be in the area, and about my surroundings.In addition, I will make some suggestions for other locations for PokeStops that would make the game more interesting (at least for me).Also, I'm going to try not to get mugged, stabbed, shot, arrested, or raped.
BLOCK #1
My journey begins at the bridge into Vanier where Rideau Street (the major throughway in downtown Ottawa) becomes Montreal Road. I know my day is off to a great start as I cut across the parking lot the Eastview Shopping Center. Its main attraction is a Beer Store next door to an addiction center. While the center does great work, being next door to a place that sells beer seems like poor location-planning to me. Right out of the gates, I get a classic Vanier welcome. There's a panhandler outside the Beer Store and he asks me for change. I tell him that I don't have any, and he yells "Go fuck yourself you fucking cunt." Charming. Also, thanks for giving me the title of my article Mr. Cranky Homeless Man.
POKÉSTOPS:
Block 1 only had two PokéStops to speak of, which soon became the trend of my journey. The first was Café Caco. What I learned about this café is that people still have websites on Tripod. A quick peek inside reveals that it's a tiny hole in the wall that can seat about five people, all of them shady.
Also, they have Karaoke. The second is Tag Zone! a "paintless" paintball arena. Which kind of takes the fun out of the whole paintball experience if you ask me.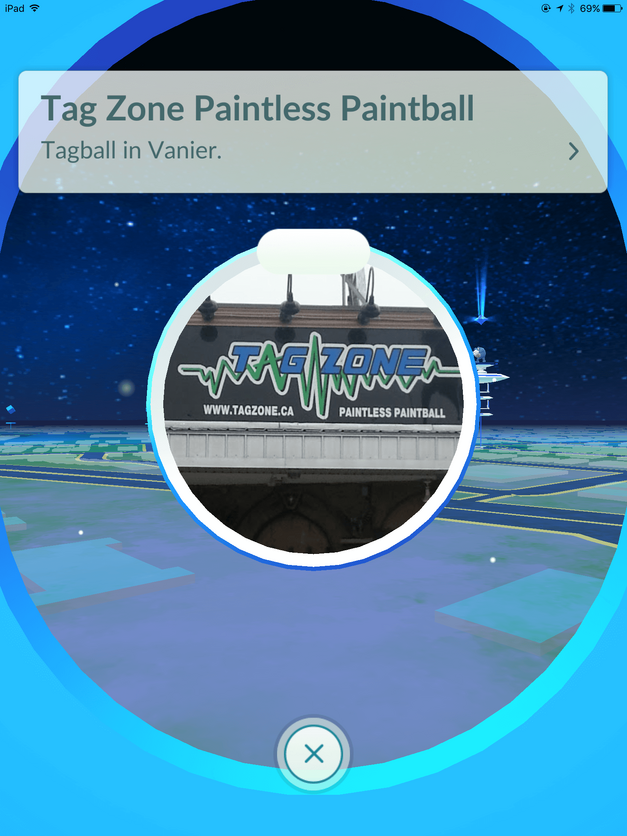 POKÉMON CAUGHT:
The first hit was a Pidgey on my adventure was outside Weeds Glass and Gifts. One of three bong shops in the neighborhood. My other catch was a Kakuna at another bong shop, this one called Scotty's, literally across the street.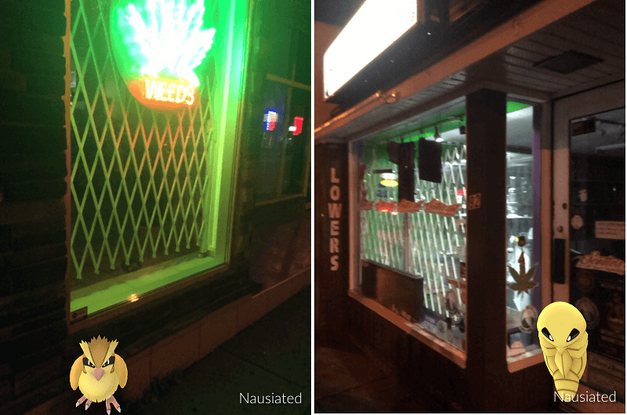 RECOMMENDED POKESTOPS:
One thing I discovered on my journey was the sparse amount of PokéStops, and after taking a look around you can kind of understand why. However, I am a firm believer in your PokéStops capturing the flavor of the neighborhood. So with that said here, we go:The first place is a tattoo parlor simply called "Tattoo" with a shady side door entrance.
A few doors down is Buzz On! the city's first vapor lounge, which closed down after less than a year of operation. I guess you can say the business went up in smoke.
Adding to the mix is Friends Bingo, where you can B-I-N-G-O your life away every day until 1 am!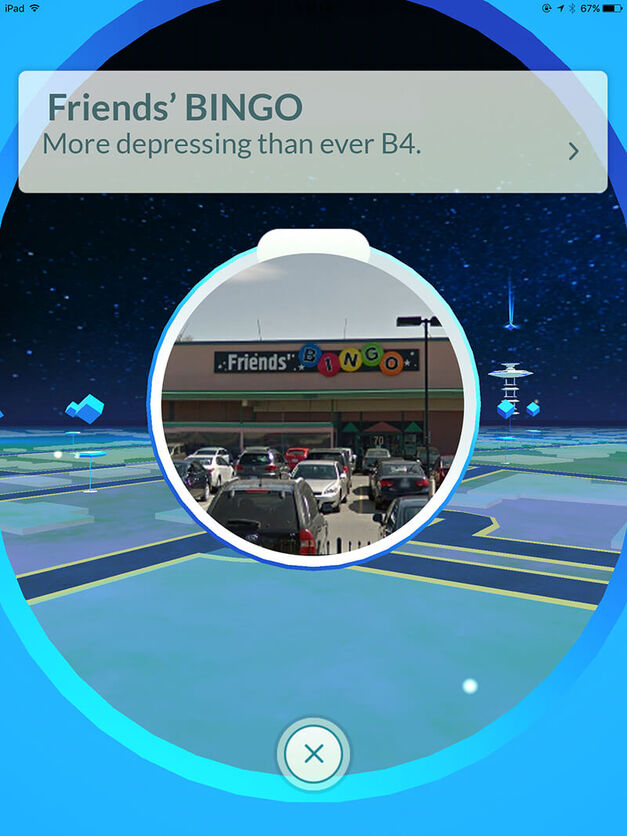 And who wouldn't want to capture Pokémon at the shady Asian Massage parlor across the street from Friends Bingo?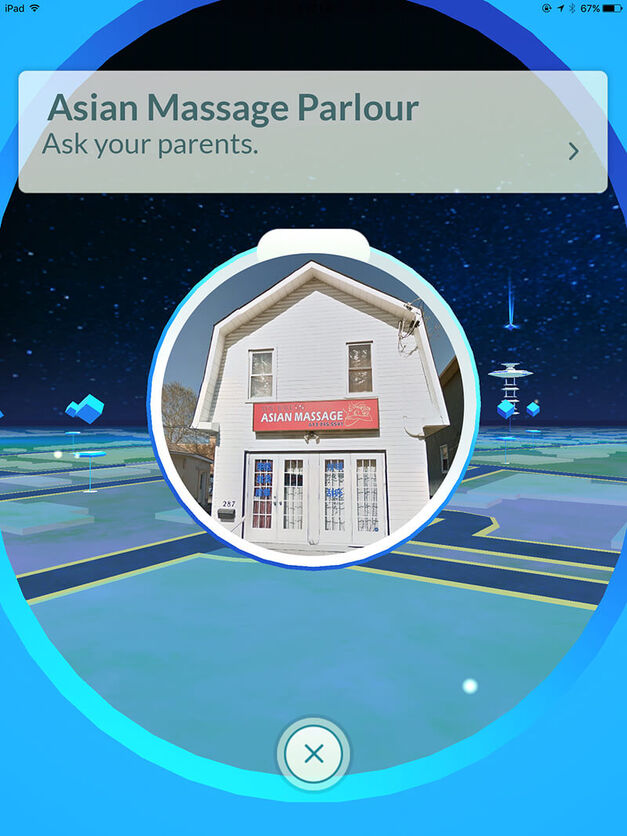 BLOCK #2
POKÉSTOPS:
Every Pokéstop on this block was a mural painted on the side of a building. Every. Single. One.
Notice how the mural of Vanier House is painted on Vanier House. It's almost as the mural painter was living some sort of paint-by-numbers version of Momento.I'm going to save myself a lot of repetition, but almost every Pokéstop from here on out is a mural. So let's just keep on moving.
POKÉMON CAUGHT:
The first hit on this block was another Pidgey at Stars Palace, one of the many places you can sing Karaoke on this street.
How does one even describe this place? Well, just watch this video:I next encountered a Fearrow outside of the Playmate Gentlemen's Club.
The only thing that's ever gotten work done in that place is the architecture.
SUGGESTED POKÉSTOPS:
Catching Pokémon outside of the local strip club is busy work and you are bound to get hungry. A great PokéStop would have to serve food. I'd recommend Eddy's Quick Lunch Family Restaurant. It's right next door.
Eddy's is probably the only family restaurant in the world that shares the same building as an adult shop, peep-show, and adult body massage parlor. If I were, to be honest, the clients of Eddy's are more likely to have daddy issues than being daddies themselves.By the next stop, you might be tired from all the Pokémon-ing. May I recommend the Ottawa Inn?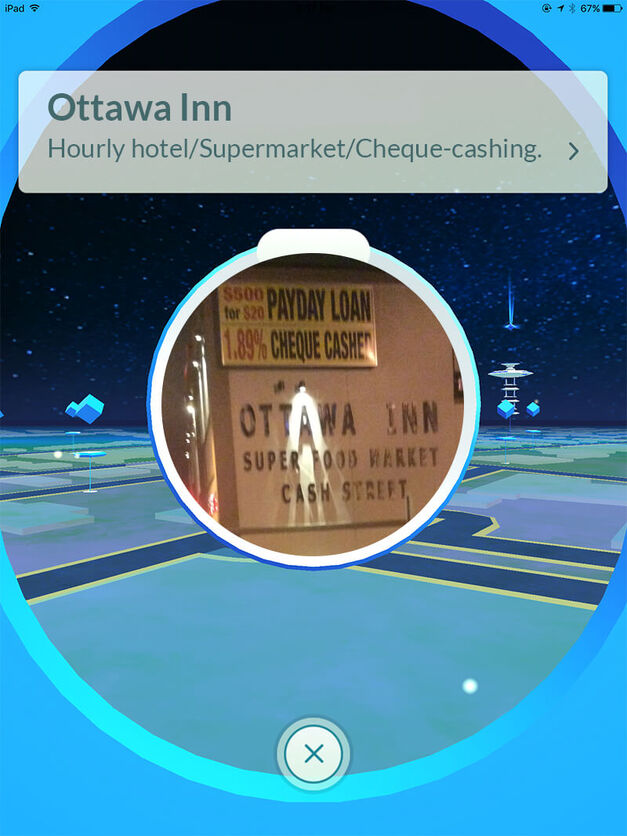 It's at this point on my journey that the game informed me one of my eggs had hatched. Which new and wonderful Pokémon would I be getting now?
BLOCK #3
We're almost there friend! Which is great, because my word count is getting long!
POKÉMON CAUGHT:
At first, it was looking like all I was going to catch were more useless Pokémon outside of drug-related businesses.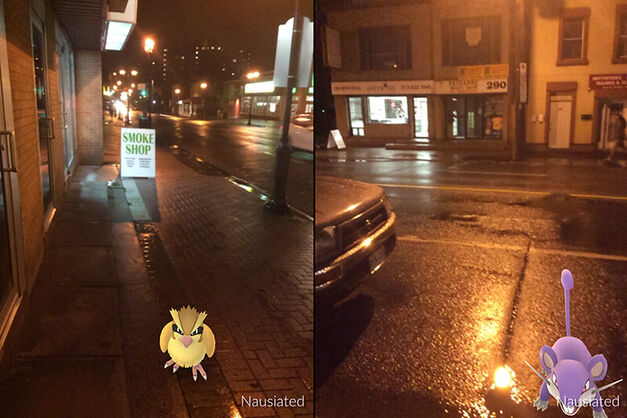 But it was about this time that I started hitting pay dirt!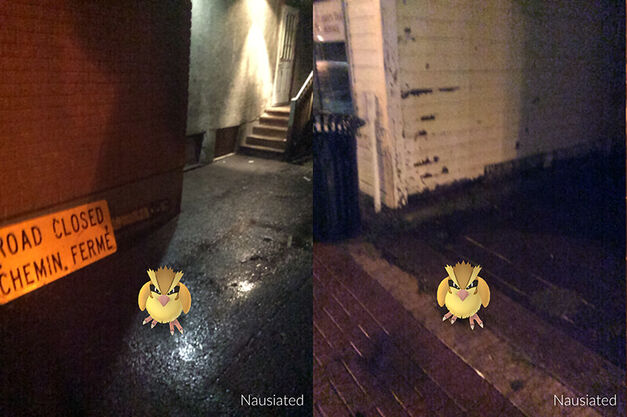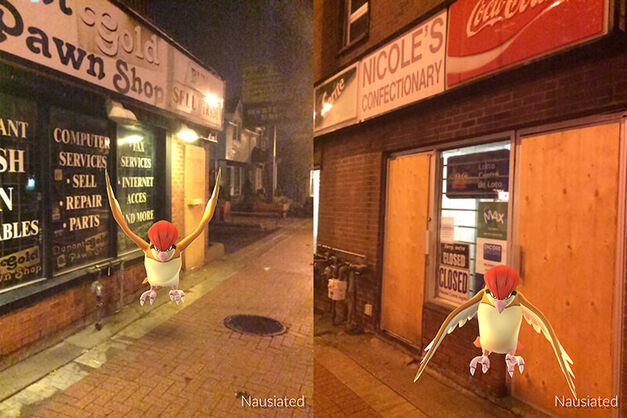 A pair of Pigeotto brought me to the site of two mysterious fires that happened in the same location only two weeks apart. Perhaps they are returning to the scene of the crime?Lastly, a Caterpie brought me to a seemingly innocuous Caribbean restaurant.  However, this was the site of a stabbing.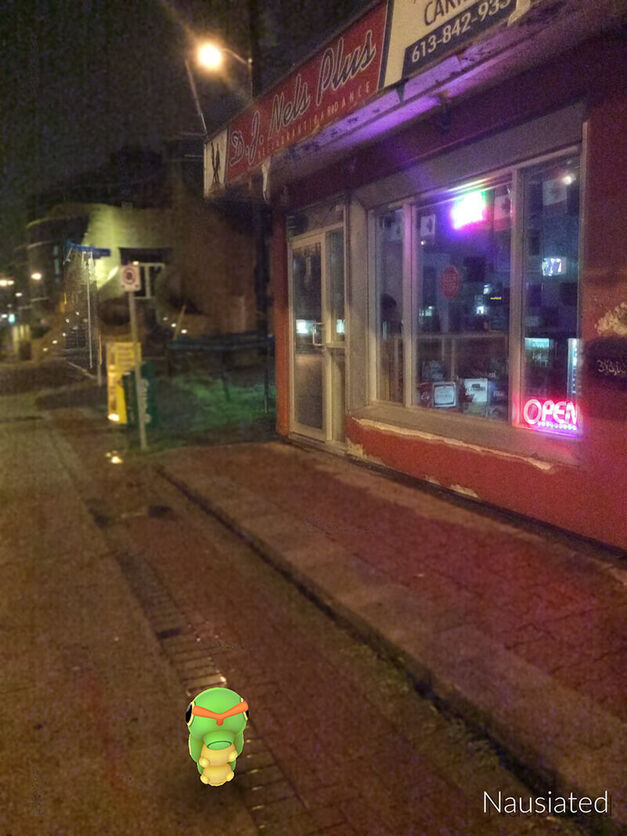 SUGGESTED POKÉSTOPS
Well at one point we came across a pile of abandoned children's toys…. That seems as good a spot as any.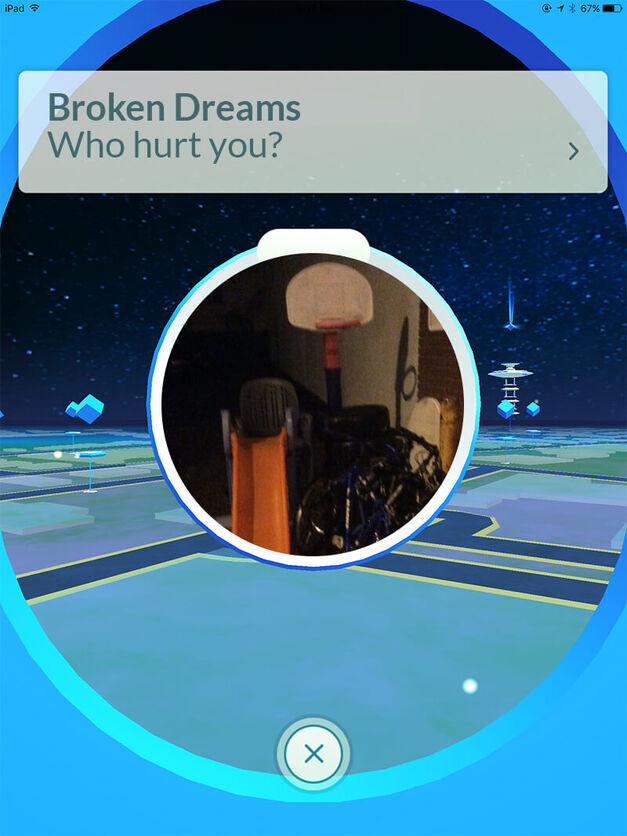 FINAL BLOCK
At this point, I'm tired, cranky, wet from the rain, and angry that I haven't caught anything worthwhile. So let's just get this over with….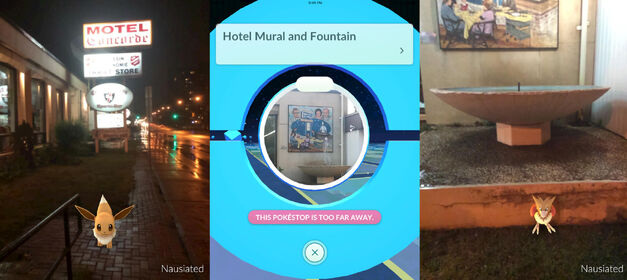 I ran into an Eevee and a Spearow outside of the most depressing building on the street. Yes, more depressing than the adult fun complex. Welcome to the Motel Concorde, which makes the Ottawa Inn look like the Ritz. It has a scuzzy bar that smells like a wet basement, home to drunkards who have been kicked out of every bar in the area. It also has pinball. In the same building is a Salvation Army thrift store, and an off-site betting room for the Rideau-Carleton Raceway! Why go outside and see the world when you can be miserable and depressing under one roof?
POKÉSTOPS
The next (and final) PokéStop is a beacon of hope for me:
Finnigan's Pub is easily the least crappy bar in the area. I've lost more memories in this bar than I'll ever remember. I once saw a man passed out in the bathroom and cracked his head open on the toilet, then shit his pants. When the paramedics finally left, the owner and the bouncer disconnected the toilet and threw it in the dumpster out back.After a long day of insanity, I come to Finnigan's to have a quiet beer and leave all the craziness of the outside world outside… In fact, that's what I did tonight. As I sat down at the bar my phone alerted me that there was a Pokémon nearby. Might as well try to catch one more before I call it a night…